What Does the Rest of the Year Hold for the Housing Market?
If you're thinking of buying or selling a house, you're at an exciting decision point. And anytime you make a big decision like that, one thing you should always consider is timing. So, what does the rest of the year hold for the housing market? Here's what experts have to say.
The Number of Homes Available for Sale Is Likely To Grow
There are early signs housing inventory is starting to grow and experts say that should continue in the months ahead. According to Danielle Hale, Chief Economist at realtor.com:
"The gap between this year's homes for sale and last year's is one-fifth the size that it was at the beginning of the year. The catch up is likely to continue, . . . This growth will mean more options for shoppers than they've had in a while, even though inventory continues to lag pre-pandemic normal."
As a buyer, having more options is welcome news. Just remember, housing supply is still low, so be ready to act fast and put in your best offer up front.
As a seller, your house may soon face more competition when other sellers list their homes. But the good news is, if you're also buying your next home, having more options to choose from should make that move-up process easier.
Mortgage Rates Will Likely Continue To Respond to Inflationary Pressures
Experts also agree inflation should continue to drive up mortgage rates, albeit more moderately. Odeta Kushi, Deputy Chief Economist at First American, says:
"… ongoing inflationary pressure remains likely to push mortgage rates even higher in the months to come."
As a buyer, work with trusted real estate professionals, including your lender, so you can learn how rising mortgage rate environments impact your purchasing power. It may make sense to buy now before it costs more to do so, if you're ready.
As a seller, rising mortgage rates are motivating some homeowners to make a move up sooner rather than later. If you're planning to buy your next home, talk to a trusted real estate advisor to decide how to time your move.
Home Prices Are Projected To Continue To Climb
Home prices are forecast to keep appreciating because there are still fewer homes for sale than there are buyers in the market. That said, experts agree the pace of that appreciation should moderate – but home prices won't fall. Lawrence Yun, Chief Economist at the National Association of Realtors (NAR), explains:
"Prices throughout the country have surged for the better part of two years, including in the first quarter of 2022. . . Given the extremely low inventory, we're unlikely to see price declines, but appreciation should slow in the coming months."
As a buyer, continued home price appreciation means it'll cost you more to buy the longer you wait. But it also gives you peace of mind that, once you do buy a home, it will likely grow in value. That makes it historically a good investment and a strong hedge against inflation.
As a seller, price appreciation is great news for the value of your home. Again, lean on a professional to strike the right balance of the best conditions possible for both selling your house and buying your next one.
How Buying or Selling a Home Benefits the Economy and Your Community
Did you know that buying or selling a home has a large impact on your community?
To measure that impact, the National Association of Realtors (NAR) releases a report each year to highlight just how much economic activity a home sale generates. The chart below shows how the sale of both a newly built home and an existing home impact the economy: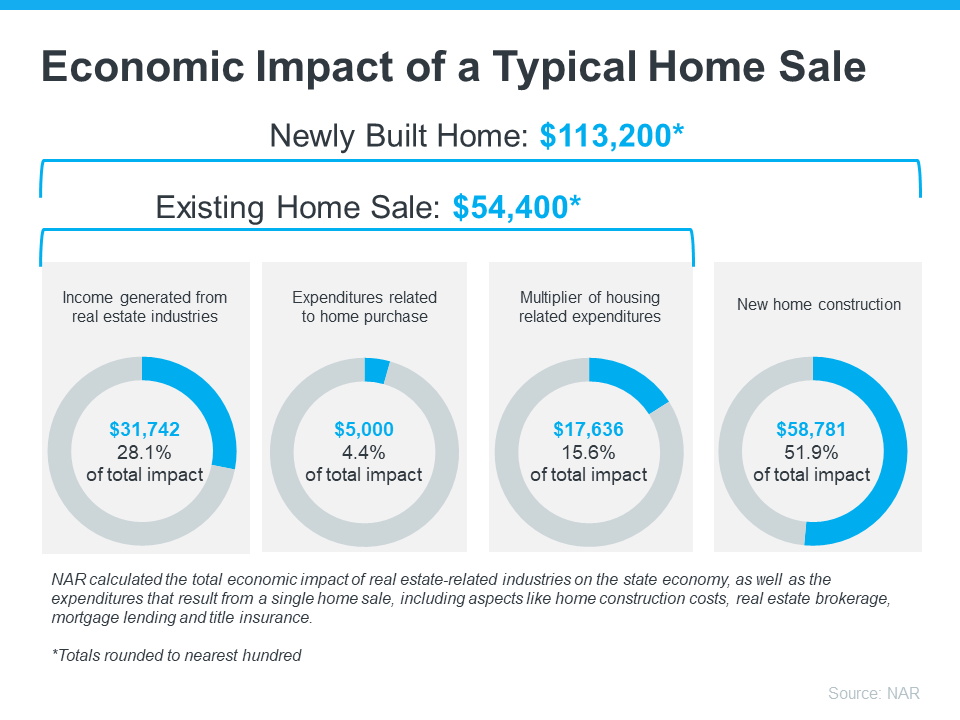 As the visual shows, a single home sale can have a significant effect on the overall economy. To dive a level deeper, NAR also provides a detailed look at how that varies state-by-state for newly built homes (see map below):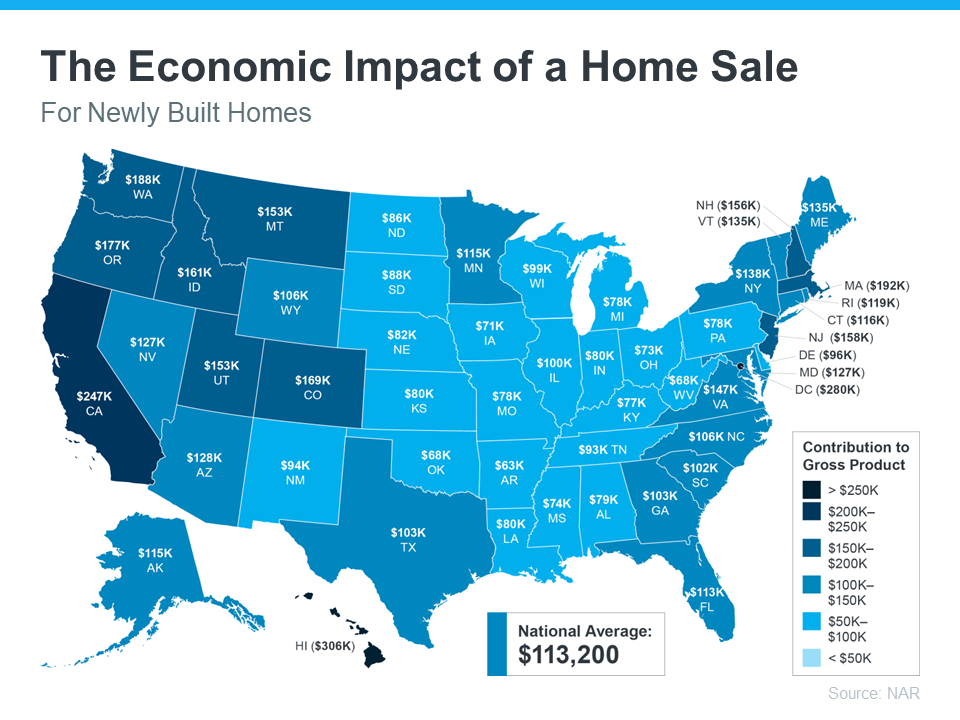 You may be wondering: how can a single home sale have such a major effect on the economy?
For starters, there are multiple industries that play a role in the process. Numerous contractors, specialists, lawyers, town and city officials, and so many other professionals are all necessary at various stages during the transaction. Every individual you work with, like your trusted real estate advisor, has a team of professionals involved behind the scenes.
That means when you buy or sell a home, you're leaving a lasting impression on the community at large.
Bottom Line
Whether you're a homebuyer or seller, you need to know what's happening in the housing market, so you can make the most informed decision possible. Also be sure to visit our more in depth report found here. Let's connect to discuss your goals and what lies ahead, so you can pick your best time to make a move.
READY TO GET STARTED